We've all heard it- "Today's market is a Sellers Market!" But what does that even mean? Basically, this signifies that there are not as many homes as there are buyers in the market. This creates multiple offer situations, which lead to "Best and Highest" calls from the listing realtors, jacking up the purchase price and pricing out a lot of first time home buyers. Don't be scared- We at the Fate Team are here to offer some tips on how to navigate this tricky market!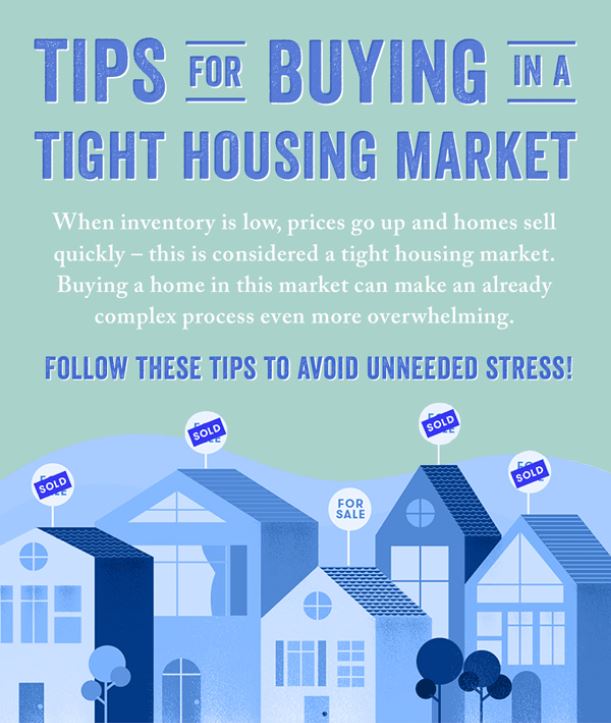 The first piece of advice we recommend to all of our home buyers is to make two lists. The first list should be the "Needs" list. In this category, they are to list all the non-negotiable features for their new home. Whether it's a certain school district, number of bedrooms, neighborhood, pool/no pool, the list can go on. The second list is labeled "Wants". In this list, our buyers are to write out their desires. These are things like stainless steel appliances, fixtures, counter tops and paint colors; basically all the things that are easily amendable. By making these two lists and visually seeing what the differences in Needs/Wants are, buyers are more focused on finding a home that fits their criteria, but doesn't necessarily have all the shiny updates that a lot of people desire. The homes that could use a little love are less likely to get into these bidding war scenarios.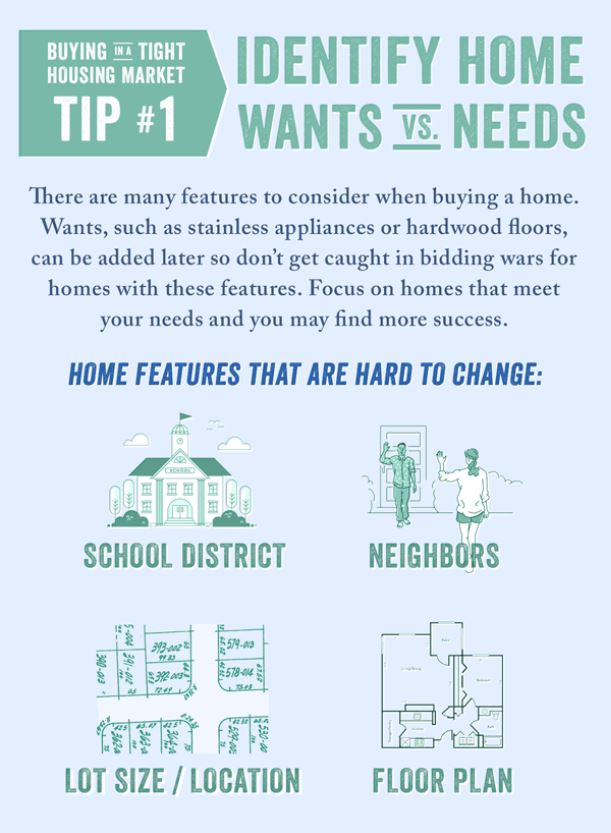 The next scenario is a heart breaking one. A couple goes to an open house in their dream neighborhood, and finds their perfect home. They have been playing with those mortgage calculators online, so they feel like the know what kind of budget they are looking at- they are golden! They decide that they want to put an offer in on the home, and the listing agent tells them that if they want to submit an offer, to please do so with a loan pre-approval attached. This couple calls their local lender, and finds out that they actually don't qualify for the purchase price of the home. Heartbroken, they must move on. To avoid heartbreak, and save our buyers time, we STRONGLY ADVISE getting pre-approved for a home loan before you even step foot in your first home! Knowing your limit also allows for smarter negotiating, and helps insure that you won't be overpaying.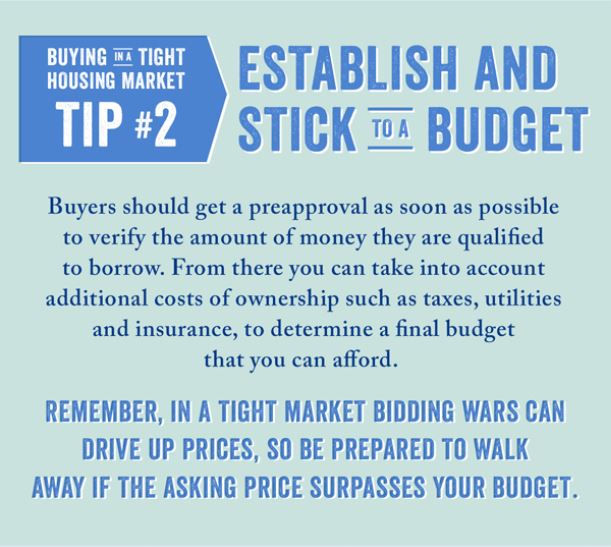 Our third tidbit of advice deals with a buyer's Earnest Money Deposit (EMD). The EMD deals with the cash provided by the buyer to the seller's title company (or sometimes Lawyer) within 3 days of contract execution. The normal EMD ranges from 1-5% of the total purchase price, and rolls into the total money down that a buyer is using to purchase the property. (I.E. - If 3k is given as an EMD, and 5k is due for closing, the buyer brings 2k to closing). When multiple offers are in play, buyers are better suited to submit a strong offer from the get go, COMPLETE with a strong EMD. This EMD will signify to the seller that this buyer is serious about purchasing the home, and committed to getting the home closed. A strong EMD helps an offer stand out.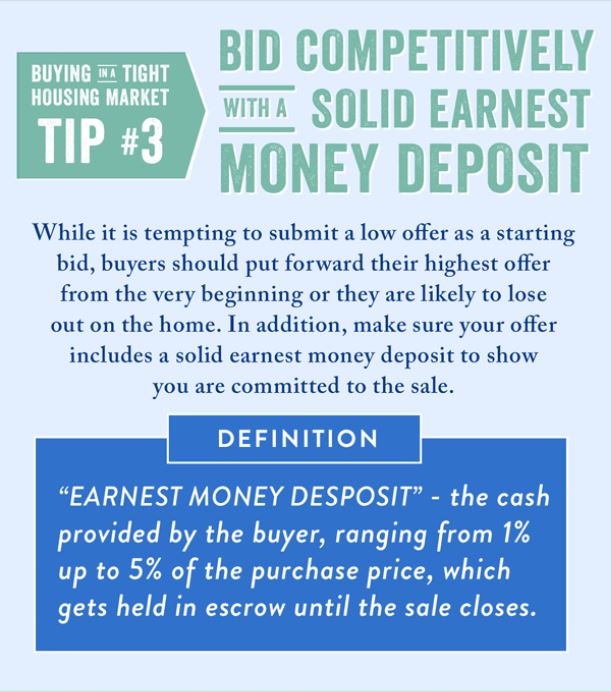 Some sellers are not just looking at the purchase price when selecting an offer. That's why it's important for Buyers to reach out to the owners and/or listing agents and directly ask "What is the seller looking for in a contract that will stand out?" Sometimes it's a certain closing date, a special type of financing, or even the buyer being willing to lease back the property to the seller for a month after closing, while the seller looks for a new home. Asking this question can help your offer stand out among the rest.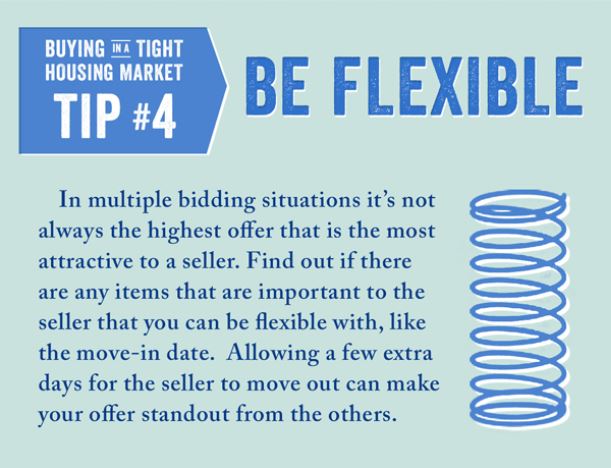 And finally, the 5th and MOST IMPORTANT advice that we are going to give you is this- HIRE A PROFESSIONAL! On average, there are 186 "touch points" from contract to close. When inventory is low, houses move quickly, so having a professional on your side who is willing and able to stop, drop, and roll, making sure that everything is in line and you are seeing the homes right when they hit the market. Timeliness and market knowledge will help ensure that your offer is the first one in the sellers hands!